Ph: 250 636 2344 Email: stay@ripleycreekinn.com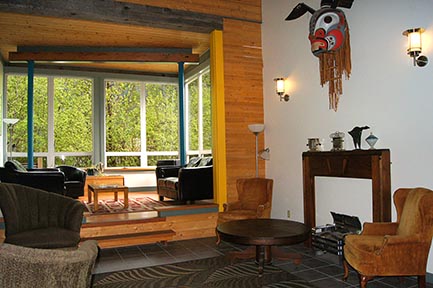 Originally a warehouse-style shop, this building became part of the accommodation we are pleased to be able to provide for our guests. After the death of the owner Rick Olson, (known as "Crow" to his friends) and after his estate was settled, we purchased the building and it was named in honour of him. The two boats on the east side of the building had been used by Crow in the harbour for booming logs. The boats were given to Frank, the Inn's owner, who likes to tell people that the last tsunami left them here. Don't believe him!! Rooms have WIFI, a small fridge, coffee/tea maker, microwave and TV.
Rooms with 2 beds may have a 3rd person (add $10) and a 4th person (add $10).
Room 456
With 2 double beds and a south-facing deck, this is one of our most popular double rooms.
$135 + taxes = $155.25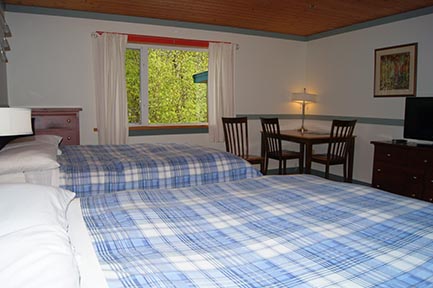 Room 459
Two double beds with an eastern window for morning sun and a view of the glacier.
$135 + taxes = $155.25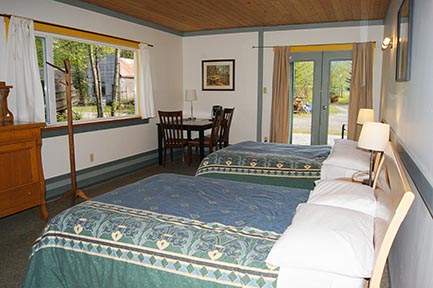 Room 467
Two double beds with a south-facing deck and mountain views. Pet-friendly room.
$135 + taxes = $155.25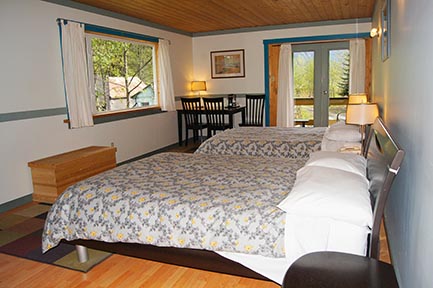 Room 457
This corner room offers views of the estuary and the glacier. 2 queen beds and a deck.
$145 + taxes = $166.75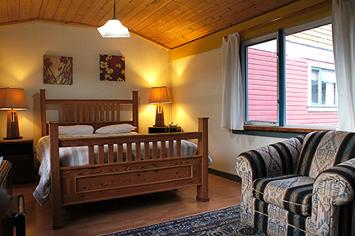 Room 465
Very unique! Ripley Creek flows under you. Private bath with shower and a queen bed, and lovely views of the estuary.
$125 + taxes = $143.75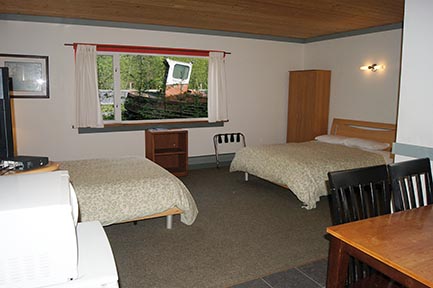 Room 468
Spacious room with 2 queen beds and lovely views.
$135 + taxes = $155.25
Room 458
Spacious room with 1 queen bed. The eastward window looks up at the mountains
$125 + taxes = $143.75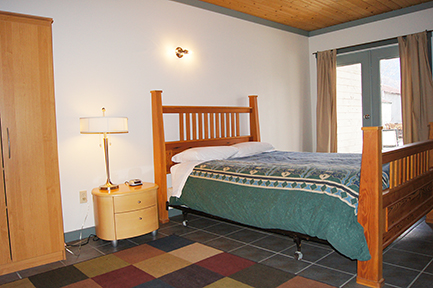 Room 466
One of two pet-friendly rooms with a patio leading to the back of the property. One queen bed, private bath with shower and a lovely view.
$125 + taxes = $143.75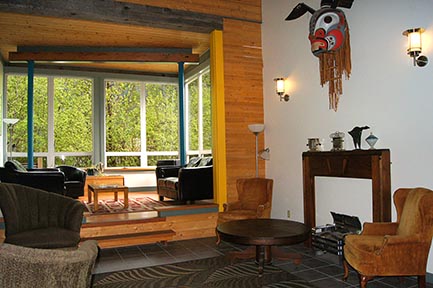 Crows Landing common area
The raised sun-room provides a relaxing place for coffee, reading, emails or hanging out. Just to the left of this photo is our sauna room, free for guests of the inn.